Once you poke a hole in your finger, a very gentle squeeze should bring the blood to the surface. If you have to milk your finger like a cow you need a deeper or larger diameter hole. Lots of pumping of the finger mixes interstitial fluid (water between cells) into the blood sample and will throw off your results.

If it hurts to lance your finger, you probably have your device set too deeply or you put the clear cap on the lance. Yeah, that's for testing on your forearm. Throw the clear cap away and put the solid one on. For what it is worth, there are some folks out there who really do have hypersensitive fingers. For you folks there are two pretty expensive solutions: a computerized lancing device that lets you micro-control hundreds of different depths; and a laser that burns a painless hole in your skin.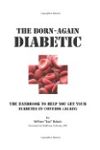 Continue Learning about Diabetes
Diabetes mellitus (MEL-ih-tus), often referred to as diabetes, is characterized by high blood glucose (sugar) levels that result from the body's inability to produce enough insulin and/or effectively utilize the insulin. Diabetes ...
is a serious, life-long condition and the sixth leading cause of death in the United States. Diabetes is a disorder of metabolism (the body's way of digesting food and converting it into energy). There are three forms of diabetes. Type 1 diabetes is an autoimmune disease that accounts for five- to 10-percent of all diagnosed cases of diabetes. Type 2 diabetes may account for 90- to 95-percent of all diagnosed cases. The third type of diabetes occurs in pregnancy and is referred to as gestational diabetes. Left untreated, gestational diabetes can cause health issues for pregnant women and their babies. People with diabetes can take preventive steps to control this disease and decrease the risk of further complications.
More