Having too much sugar in your blood is like having too much rain in a small pond—the flooding can cause damage for everything around it. Too much blood sugar can:
Weaken junctions between the smooth endothelial cells lining your arteries, making the Teflon lining more vulnerable to nicks.
Increase the likelihood of high blood pressure.
Cause your white blood cells to stop fighting infections, thus weakening your immune system.
Trigger a chemical process in your red blood cells, which transport oxygen in your bloodstream, that causes your red blood cells to want to hold onto oxygen more tightly. That keeps oxygen from getting to your tissues. When that happens, the glucose (sugar), like a lost puppy, attaches to whatever it can find—most likely proteins in your blood and tissues. These proteins deposit in tissues, which leads to the development of cataracts, joint abnormalities, and lung problems.
Get into your nerves and cause a reaction that makes your nerves swell, become compressed, and lose their ability to function—usually in the parts of your body farthest from your brain, your hands and feet.
Flip off a switch in your small blood vessels. Normally your body automatically regulates flow of nutrients into your small blood vessels. They sort of work on back-up (like a generator for when the power goes out) so they can function even when your big vessels might be experiencing problems. But high levels of glucose turn off that automatic regulation—and let a little high blood pressure make nicks and tears in the junctions between cells in your smaller blood vessels. This is like asking someone to use a sledgehammer to do the job of a jeweler's tool—it magnifies that effect and magnifies the size of the nick. Also contributing is omentum fat (belly fat), which doesn't just impede the insulin process; it does something even worse—it causes inflammation.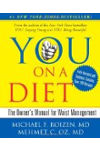 Continue Learning about Diabetes