The type of food you eat can affect your blood sugar levels if you have diabetes. Raw foods, for example, are digested more slowly than cooked foods. Foods that are broken down more slowly release glucose into the blood more slowly. Foods that contain fat also take longer to digest than foods without fat. That's why an ice cream cone or a chocolate bar may not cause blood sugar levels to rise as quickly as you might expect. Checking your blood sugar two hours after eating carbohydrates is the best way to learn the effects of different foods.

Moderation is key. At one time, people with diabetes were told not to eat sweets at all. Today, sweets and snacks are allowed, but portions need to be small and balanced during the day.
Anything that used to run, walk, crawl, slither, fly, or swim will have little effect on your blood sugar. Basically, a properly sized serving of meat or fish has no effect on your blood sugar.

Now if you take a piece of fish and batter-and-deep-fry it, it becomes a white food. If you don't have a gas grill yet, this would be a good time to buy one.

Cheese is another freebie, having little or no effect on your blood sugar. Same for the green veggies.

Fruit can raise your blood sugar, but it can also be very healthy for you, especially fresh fruit. You'll just have to use your meter to see how various types of fruit affect you. Beans are middle of the road, and nuts tend to treat blood sugar well, but are high in calories, so too many can cause you to put on weight.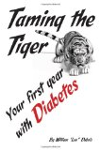 More About this Book
Taming the Tiger: Your first year with Diabetes
If you ve just been diagnosed with diabetes, this book is for you! It is a fact. Getting a diagnosis of diabetes has the same impact on your body and soul as having a heart attack. Right now you are...
Continue Learning about Diabetes
Diabetes mellitus (MEL-ih-tus), often referred to as diabetes, is characterized by high blood glucose (sugar) levels that result from the body's inability to produce enough insulin and/or effectively utilize the insulin. Diabetes ...
is a serious, life-long condition and the sixth leading cause of death in the United States. Diabetes is a disorder of metabolism (the body's way of digesting food and converting it into energy). There are three forms of diabetes. Type 1 diabetes is an autoimmune disease that accounts for five- to 10-percent of all diagnosed cases of diabetes. Type 2 diabetes may account for 90- to 95-percent of all diagnosed cases. The third type of diabetes occurs in pregnancy and is referred to as gestational diabetes. Left untreated, gestational diabetes can cause health issues for pregnant women and their babies. People with diabetes can take preventive steps to control this disease and decrease the risk of further complications.
More