Diabetes medicine levels and treatments can vary significantly between individuals. Now, if your neighbor takes the same diabetes medication that you do, but takes more of it, that does not make her sicker than you are. Everyone's diabetes is a personal affair and there are all kinds of different things that dictate how much and what kind of medication you need. Some medications are pills, some are shots. Medication, dosage and and desired effects are all to be set by your doctor.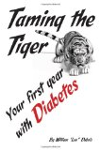 More About this Book
Taming the Tiger: Your first year with Diabetes
If you ve just been diagnosed with diabetes, this book is for you! It is a fact. Getting a diagnosis of diabetes has the same impact on your body and soul as having a heart attack. Right now you are...
Continue Learning about Diabetes