Weigh yourself on the day you start your diabetes management plan. Focus on monitoring and recording your blood sugar level, medications, and activity (if you have diabetes), eating appropriate amounts of carbohydrates, increasing your physical activity.
Objectives:
If you have diabetes, regularly test your blood sugar and keep a
blood sugar/drug/food/exercise log.
Eat appropriate amounts of carbohydrates.
Eat three meals and two snacks each day, three snacks if you're
taking in 2,250 calories daily.
Eat a Best Life Breakfast
Eat lightly -- or not at all -- during the two hours before bedtime.
Eliminate sweetened beverages and alcohol.
Drink six glasses of water daily.
Increase your activity.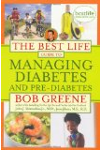 Continue Learning about Diabetes