Diabetes diagnosis means treatment, and treatment means improvement. The good news is that you are going to feel ten years younger in a matter of months. Your energy is about to start going up, up, up. You won't be so thirsty. Instead of getting up four times a night to pee, you'll sleep through the night. Your love life will improve. Your vision will get sharp. You won't be so crabby, you might not notice, but your loved ones sure will. Bottom line: From this very day forward, it all gets better.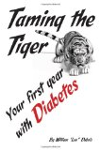 More About this Book
Taming the Tiger: Your first year with Diabetes
If you ve just been diagnosed with diabetes, this book is for you! It is a fact. Getting a diagnosis of diabetes has the same impact on your body and soul as having a heart attack. Right now you are...
Continue Learning about Diabetes