The number two reason for owning and wearing a CGM is to make sure your glucose-control therapy is working right for you, and for fine-tuning it. The CGM data, combined with a food and activity log, can show you in mind-numbing detail what is working right for you and what is working wrong for you in your diabetes therapy.

This is especially valuable for insulin users. You can now look at what happens while you sleep, after you eat, and when you move (as in using your body, not relocating to Cincinnati). CGM is the only way to truly get insulin pump basal rates "right." And the same holds true for insulin corrections, insulin-to-carb ratios, and pretty much everything else in diabetes control.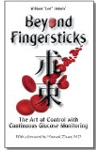 A continuous glucose monitor (CGM) may help you and your clinicians see blood glucose patterns that can be missed from taking just a couple of blood glucose readings per day. This is helpful in making adjustments to insulin, medications, exercise or food intake depending on whether the blood sugar is rising or falling at specific times of the day. A CGM records your blood glucose readings about every 5 minutes so it gives you a more precise picture about your blood glucose levels.
Continue Learning about Diabetes