At night, we all wish we could just park the monitor on our nightstands, but no such luck, unless you live in the tropics. Most CGM signals seem to get blocked by blankets and comforters quite easily. I've done a number of different things over the years, but I've worn six different CGM devices, so form has dictated function to a large extent. Sometimes I've clipped my CGM to my pump, thrown the pump into bed with me, and followed it in, like a crab fisherman being snatched off the deck by the trap lines. Sometimes I've clipped the CGM to my jammies. Sometimes I let it float around loose somewhere in the bed.

Right now I've taken to wearing my sensor on my upper arm, and I've found the monitor is happy sleeping between the pillows in the middle of the bed, near my head. My monitor gets signals from the sensor, and my ears get the signals from the monitor.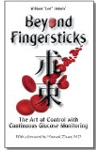 Continue Learning about Diabetes
Diabetes mellitus (MEL-ih-tus), often referred to as diabetes, is characterized by high blood glucose (sugar) levels that result from the body's inability to produce enough insulin and/or effectively utilize the insulin. Diabetes ...
is a serious, life-long condition and the sixth leading cause of death in the United States. Diabetes is a disorder of metabolism (the body's way of digesting food and converting it into energy). There are three forms of diabetes. Type 1 diabetes is an autoimmune disease that accounts for five- to 10-percent of all diagnosed cases of diabetes. Type 2 diabetes may account for 90- to 95-percent of all diagnosed cases. The third type of diabetes occurs in pregnancy and is referred to as gestational diabetes. Left untreated, gestational diabetes can cause health issues for pregnant women and their babies. People with diabetes can take preventive steps to control this disease and decrease the risk of further complications.
More