The modern transmitters are just small enough in their metal content that more than half the time you can waltz through the airport metal detector unmolested. The monitor can be thrown in the x-ray bucket with your insulin pump, keys, wallet, shoes, and laptop computer with no risk of harm.

However, on a recent trip I was screened by one of those new peek-through-your clothes scanners at the Albuquerque airport and apparently my CGM looked suspiciously like a small bomb taped on my body. My advice: announce to security that you have a semi-implanted medical device on your body before entering this kind of scanner.

To make the airport security odyssey a little easier, there are several things you can do. Some CGM makers will provide you with a wallet card that explains to security what you are wearing. Get it laminated to make it look more professional. Also ask your doctor for a letter on office or clinic letterhead explaining your condition, your gear, and your needs. This will also help reduce the risk of having your glucose fluid and emergency insulin seized.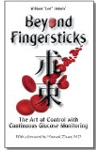 Continue Learning about Diabetes