With many meters, the machine needs to know stuff about the strips—the one-shot meter "food" that sucks in the drop of blood for testing. The vial of strips will have a code number printed on it. It is vital that the meter knows what this number is.

Some meters use a chip that plugs into the back of the meter, some make you enter the code number using the keypad on the meter, and the newer models are self-coding so you don't have to worry about it at all.

That said, you need to know which kind your meter is. If you have a model that needs to be coded and you don't code it, your numbers can be way off. If you don't have the energy to read through the manual that came with the meter, call the toll-free phone number printed on the back of the meter. The folks that make the meter will be happy to talk you through the process.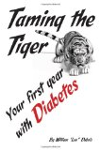 More About this Book
Taming the Tiger: Your first year with Diabetes
If you ve just been diagnosed with diabetes, this book is for you! It is a fact. Getting a diagnosis of diabetes has the same impact on your body and soul as having a heart attack. Right now you are...
Continue Learning about Diabetes