A continuous glucose monitor is connected to a tiny sensor that is inserted under your skin for up to a week before it needs to be replaced. The sensor checks glucose levels in tissue fluids and transmits those numbers to a pager-like device every one to five minutes. An alarms in the monitor goes off if your blood glucose level is getting too high or too low. This minute-by-minute monitoring allows you greater control of your blood sugar levels. However, because these monitors tend to be less accurate than standard blood glucose meters, changes in diabetes treatment should not be made until the readings are confirmed by tests using a standard glucose meter.

By giving you better control of your blood sugar over time can, CGMs can substantially reduce blood sugar mistakes in people with diabetes. However, CGM meters will not magically eliminate blood sugar mistakes. Even with the best technology has to offer, bad days will happen. We count carbs wrong. The infusion tubing tangles. Don't be angry, sad, or frustrated. Take joy in being human with all our frailties and uncertainties. This is a game of averages; a bad day that doesn't end in a coma is not the end of the world, and it won't even screw with your A1C. Be right most of the time and you get to keep your toes and eyes.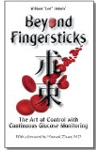 Continue Learning about Diabetes
Diabetes mellitus (MEL-ih-tus), often referred to as diabetes, is characterized by high blood glucose (sugar) levels that result from the body's inability to produce enough insulin and/or effectively utilize the insulin. Diabetes ...
is a serious, life-long condition and the sixth leading cause of death in the United States. Diabetes is a disorder of metabolism (the body's way of digesting food and converting it into energy). There are three forms of diabetes. Type 1 diabetes is an autoimmune disease that accounts for five- to 10-percent of all diagnosed cases of diabetes. Type 2 diabetes may account for 90- to 95-percent of all diagnosed cases. The third type of diabetes occurs in pregnancy and is referred to as gestational diabetes. Left untreated, gestational diabetes can cause health issues for pregnant women and their babies. People with diabetes can take preventive steps to control this disease and decrease the risk of further complications.
More