There is some evidence that vinegar may keep blood sugar levels from rising as high as they normally would after a meal, especially after a high-carbohydrate meal. This has been determined through preliminary research, however, so there are no official recommendations about the use of vinegar to control blood sugar. Consider vinegar a good seasoning to add to your meal, which may have a little extra benefit in terms of blood sugar control.

Something that might help manage diabetes, and costs mere pennies per dose, is vinegar. Vinegar and other acids lower the glycemic index of foods, and research from the University of Arizona suggests that 2 tablespoons of vinegar taken with meals can reduce the post-meal blood sugar spike in people with diabetes. As an added bonus, the same amount of vinegar can also increase satiety, resulting in fewer calories eaten.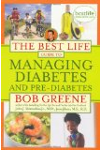 Continue Learning about Diabetes
Diabetes mellitus (MEL-ih-tus), often referred to as diabetes, is characterized by high blood glucose (sugar) levels that result from the body's inability to produce enough insulin and/or effectively utilize the insulin. Diabetes ...
is a serious, life-long condition and the sixth leading cause of death in the United States. Diabetes is a disorder of metabolism (the body's way of digesting food and converting it into energy). There are three forms of diabetes. Type 1 diabetes is an autoimmune disease that accounts for five- to 10-percent of all diagnosed cases of diabetes. Type 2 diabetes may account for 90- to 95-percent of all diagnosed cases. The third type of diabetes occurs in pregnancy and is referred to as gestational diabetes. Left untreated, gestational diabetes can cause health issues for pregnant women and their babies. People with diabetes can take preventive steps to control this disease and decrease the risk of further complications.
More