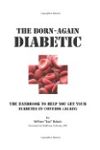 It is important to calibrate your blood sugar meter. That's because there are manufacturing variances in test strips that can make the results quite different from batch to batch. Rather than make the manufacturing process more precise and reliable, meter companies have devised a cheap work-around. Every batch of test strips is given a code. The code tells the meter how bad the batch of strips is, and by how much to change the reading to get the results in the same general neighborhood as correct.

I'm sure it will ruin your day to learn that for the FDA to consider a test strip accurate it must be within 20% of correct. That means if your blood sugar is really 100, any test strip that reads from 80 to 120 is considered accurate and can be approved.

How far off will your meter be if calibrated wrong? Depends on the meter. I've seen cases of 100 or 150 points off. If I find a patient's meter mis-calibrated I don't even look at the numbers or the log. They are too likely to be wrong.