A blinded continuous glucose monitoring (CGM) is a device that a person with diabetes wears for three to five days to measure blood sugar (glucose), but cannot see any of the measurements. No alarms will go off even if your blood sugar is extremely high or dangerously low. There are no arrows to show which way your blood sugar is moving. You are unable to see how food, exercise, stress and other factors affect your diabetes control.

The blinded CGM is a loaner unit. That means you return it to the clinic or doctor's office and the data is downloaded there. When you see your doctor again, you go over the results, hoping to find trends and patterns in order to make diabetes therapy management decisions.
The first CGM was a blind device. It was mute, deaf, and dumb to the person wearing it. It watched silently in the night like some kind of sinister spy. It was not until after it was taken off your body that it gave up its secrets.

Now the CGM species has returned to its origins. Medtronic, makers of the original blind CGM, is now making the i-Pro, a modern, sleek, higher tech version of the original blind CGM. Dexcom too, has a way to mute their monitor so that it won't talk to the patient. Both these systems are not for you. They are for your doctor, but they give many diabetics who cannot afford full-time systems a way to peek into their bodies and see how their diabetes therapy is working for them. Ask your doctor if a blind CGM trial is right for you.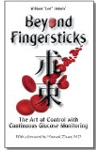 Continue Learning about Diabetes
Diabetes mellitus (MEL-ih-tus), often referred to as diabetes, is characterized by high blood glucose (sugar) levels that result from the body's inability to produce enough insulin and/or effectively utilize the insulin. Diabetes ...
is a serious, life-long condition and the sixth leading cause of death in the United States. Diabetes is a disorder of metabolism (the body's way of digesting food and converting it into energy). There are three forms of diabetes. Type 1 diabetes is an autoimmune disease that accounts for five- to 10-percent of all diagnosed cases of diabetes. Type 2 diabetes may account for 90- to 95-percent of all diagnosed cases. The third type of diabetes occurs in pregnancy and is referred to as gestational diabetes. Left untreated, gestational diabetes can cause health issues for pregnant women and their babies. People with diabetes can take preventive steps to control this disease and decrease the risk of further complications.
More