Blood sugar matters, a lot, because over time high levels of blood sugar cause damage to your body. So high numbers are bad, right? Yes, but you can't take any one number too seriously. A bad number doesn't make you a bad person. I like to say that even bad numbers are good information.
That's the secret to blood sugar testing: It's good information. "Bad" numbers are simply good information that you need to do something about.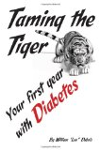 More About this Book
Taming the Tiger: Your first year with Diabetes
If you ve just been diagnosed with diabetes, this book is for you! It is a fact. Getting a diagnosis of diabetes has the same impact on your body and soul as having a heart attack. Right now you are...
Continue Learning about Diabetes