Many people think that diabetes is a purely genetic disease, and of course, it sure would be nice to blame Aunt Mabel for the medical condition, but it doesn't quite work that way. For type 2 diabetes (type 1 is the juvenile form), your environment (that is, your lifestyle, your behaviors and those macaroons on the counter) is a much more dominant trait than genetics.
With that said, certainly, type 2 diabetes is a genetic disease. That is, if you were a twin and had an identical twin who gets type 2 diabetes, you have the genetics for it. Most people with type 2 diabetes have a family member who also has it.
Watch the video to learn more about type 2 diabetes.
Once you have the design for diabetes built into your body, something needs to trigger it. Your genetics are your diabetes hardware. Your age and weight are your diabetes software. If you are set up for diabetes, it shows up when you are old enough (usually about 40) or heavy enough. If you are really skinny, you probably got your diagnosis later in life. If you are a bit hefty, you probably got your diagnosis earlier in life.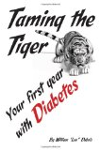 More About this Book
Taming the Tiger: Your first year with Diabetes
If you ve just been diagnosed with diabetes, this book is for you! It is a fact. Getting a diagnosis of diabetes has the same impact on your body and soul as having a heart attack. Right now you are...
Continue Learning about Diabetes