If you have diabetes, and are sloppy about brushing your teeth you can get a gum infection called periodontal disease (first warning sign: small amounts of blood when you brush). This low-grade infection will make it nearly impossible to control your blood sugar. And if your blood sugar is all over the place it makes it nearly impossible to beat down the infection.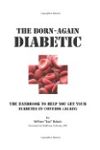 When people have diabetes they are much more susceptible to periodontal or gum disease. Even the smallest amount of plaque left below the gum line or between teeth can cause bleeding and inflammation—more so than in a person without diabetes.
Because of this, it is also important to practice meticulous daily home care. Even a little bit of plaque left behind can more easily cause inflammation in a person with diabetes versus another individual. Twice daily toothbrush along with once daily cleaning between the teeth is vital. If you struggle with dental floss, consider using an alternative product. One excellent home care choice for people with diabetes is a Water Flosser also called an oral irrigator or dental water jet. It has been tested on people with diabetes and found to reduce bleeding (44 percent) and gingivitis (41 percent) better than brushing alone.
It is also important that you visit your dental office at least twice a year for an exam and professional cleaning.
Everyone should take good care of their teeth and gums, especially people with diabetes. Maintaining good dental health helps prevent decay/cavities which can lead to abscesses, gum disease which can lead to loose teeth, infection and bad breath, among many other problems. Of course, poor oral health and dental disease can also lead to tooth loss and loss of nice smile.
Diabetics tend to get periodontal disease at a rate three to four times higher than people without diabetes, but when their condition is controlled with medication, diet or other treatments, their periodontal condition will often stabilize and return to health. Periodontal disease can also affect control of diabetes. Uncontrolled diabetes impairs white blood cells, the main defense against bacterial infection and periodontal disease results from bacterial infection. Besides gum problems, diabetes also can have effect on dry mouth, thrush, burning of the tongue and mouth, and acetone breath.
What a great and important question. Diabetes has become epidemic in the US. As it relates to dentistry, it is a two way problem. First, diabetes can cause one to be more likely to develop gum disease, especially if the diabetes in poorly controlled. Second, the inflammation of gum disease can cause a rise in blood sugar and make the diabetes more difficult to control. So, people who are diabetic or pre-diabetic should take extra-special care of their mouths.
The good news is that well-controlled diabetics can have any kind of dental care.
When the gum tissue is not kept clean by brushing and flossing, the tissue will become inflamed. This inflammation has a damaging effect on diabetic patients by causing a rise in the blood sugar levels. Those patients with gum inflammation who reduce that inflammation will see a decrease in their blood sugar.
Periodontal disease, also known as gum disease, is associated with diabetes. Diabetes slows the body's healing process and makes the body less resistant to infection. People with diabetes can have more bacteria in their mouth than other people, and the bacteria can grow faster because of high blood sugar levels. Without proper and regular cleaning, the hardened plaque (tartar) can cause inflammation and infection.
For people with diabetes, it's very important to brush your teeth twice a day and floss your teeth each day as well. Some dentists also recommend an antimicrobial mouthwash. In addition, you should see your dentist regularly, maybe even more than the two times a year typically recommended. Preventative treatment is important in caring for teeth and gums in people with diabetes.
Continue Learning about Diabetes and Oral Health