The first and best thing you do to help avoid complications from diabetes, is to keep your blood sugar down.
Next, every year, without fail, no matter how good your A1C, no matter how good your blood sugar control is, you need to get a dilated eye exam. And be sure to tell the eye doctor that you have diabetes.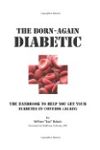 Over time, high blood glucose levels boost the odds that you'll have diabetes complications, such as heart disease, kidney disease, and neuropathy, so it's important to ask your doctor about ways to avoid these problems. Keeping blood glucose levels down is the best insurance to guard against complications. Since heart disease is the most common diabetes complication, keeping blood pressure close to your target will help protect your heart health. Also, ask your doctor about the tests and exams you need, such as kidney function tests, eye exams, and biannual dental visits.
It is important to do what you can to prevent short-term and long-term complications of diabetes. Here are some ways to meet these goals:
live a healthy lifestyle, with regular school or job attendance and fun social activities
avoid extremely high blood glucose levels
avoid severe low blood glucose or unconsciousness
maintain a healthy body weight and physical fitness
The best way to avoid diabetes complications is to properly manage your blood sugar. Eating a healthy diet, exercising regularly and monitoring your blood sugar will keep your blood vessels open and your body healing well. Smoking can also decrease your body's ability to properly heal. If you don't smoke, don't start, and if you do smoke, talk to your doctor about methods of quitting.
Another important part of caring for your body is checking regularly for any potential problems. This is especially true on your feet, where you may not notice problems until it's too late. Look at your feet every day to check for cuts, sores, ingrown toenails or other issues.
Continue Learning about Diabetes Complications