Ketones are chemicals that appear in the blood and urine when you are developing ketoacidosis, a condition in which there is plenty of glucose in your blood but your cells are literally starving because the glucose can't get inside them. Ketoacidosis can be serious and even life-threatening but in the early stages can be corrected by drinking enough fluid and taking the correct amount of insulin. If you test positive for ketones, you need to postpone your workout, drink plenty of fluids, monitor your blood sugar level, and probably take extra insulin. A small amount of ketones in the urine may not be serious, but if your blood sugar level remains high or the ketones stay positive, you should contact your doctor immediately.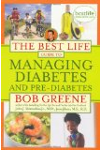 If you don't have enough insulin available, your body will burn fat instead of glucose. This can happen when your insulin dose isn't adequate or during illness. This can also occur if you are severely restricting your carbohydrate intake. Some of the by-products of fat burning are ketones. Ketones are toxic to your body. It's important to detect them before the levels get too high.
Ketones are chemicals produced when the body breaks down fat for fuel. This can occur when there is not enough insulin to permit glucose to enter the cells to be used for energy or when there are too many stress hormones.
Continue Learning about Diabetes Complications