In 2008 alone, more than 70,000 people with diabetes had a leg or foot amputated. Amputations in people with diabetes account for more than 60 percent of the amputations of legs and feet not resulting from an injury, such as from a car crash. People with diabetes were eight times as likely to lose a leg or foot to amputation as people without diabetes, according to CDC research.
More than 60 percent of lower leg amputations occur in people with diabetes, yet the Centers for Disease Control and Prevention (CDC) estimates that as many as 85 percent of these amputations could be avoided if people with diabetes took care of their feet and had regular foot examinations. Public awareness aimed at educating those with diabetes about prevention may be making an impact.
Diabetics suffer 84,000 "non-traumatic" amputations per year. I guarantee you that any amputation is traumatic. What we are saying here is that these were medically necessary amputations rather than cases of some poor sod running over his foot with the lawn mower. Sometimes a diabetic loses a toe. Or two or three. Sometimes a foot to the ankle. Or a leg to the knee. Or a leg to the hip. We take as little as we can. People who lose toes often are back again to lose more. We kill them a slice at a time.
Diabetic amputations happen because as neuropathy develops, you can't feel your feet. If you step on a tack or a nail or get a splinter, you don't feel it. You have no awareness it is there. If your blood sugar is high, it impairs your body's ability to heal. A minor injury becomes an infected one, the infection becomes an abscess, the abscess becomes gangrene, and the gangrene must be cut off. At that point the affected flesh is dead.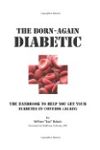 For someone with diabetes, an injury as minor as a blister or stubbed toe can mean losing that toe, foot or even leg.
Diabetes can cause nerve damage—called neuropathy—which can make people with the disease lose sensation and be unaware that an injury is taking place. They might not have any idea there's a pebble in their shoe until it's chafed a hole in their foot, for example.
Such foot wounds, called ulcers, can be easily infected and hard to heal because of other diabetes complications, including poor circulation and an impaired immune system. If the infection gets deep or severe enough, the situation can become life threatening.
Infection is the main reason for amputating, but there are no firm national protocols or guidelines for when a limb is beyond salvaging. In addition, foot care for those with diabetes tends to be fragmented nationwide: A variety of clinicians, often working in isolation, manage foot problems. These specialists tend to focus only on the aspect of the problem for which they have been trained.
Fragmentation of care helps explain why amputation rates for people with diabetes remain unchanged or have increased in parts of the country, despite major improvements in wound healing and revascularization techniques.
The contents of this website are for informational purposes only and are not intended to be a substitute for professional medical advice, diagnosis, or treatment. Nor does the contents of this website constitute the establishment of a physician patient or therapeutic relationship. Always seek the advice of your physician or other qualified health provider with any questions you may have regarding a medical condition.
Continue Learning about Diabetes Complications