While people with diabetes have a generally higher risk of cardiac problems than those without this condition, the increase in risk for cardiac complications with major surgery is quite low—and there may be no increase at all with good care. People with diabetes have higher rates of atherosclerosis, of course, and if you've already had a heart attack or kidney problems, those risk factors do increase your risk of heart problems with surgery. But after taking those factors into account, diabetes is not clearly linked to short-term complications with surgery.

Major orthopedic surgery procedures such as hip replacement have a pretty low rate of major cardiac complications when performed by experienced teams at good hospitals. In short, good care can mitigate whatever increased risk of complications that your diabetes may carry. If you are having considerable pain from your hip, such as pain at rest, then I would strongly consider moving ahead with the surgery.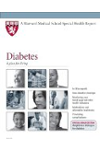 More About this Book
Harvard Medical School Diabetes: A plan for living
Nearly 24 million Americans roughly one of every 13 people have diabetes, a disease marked by high levels of sugar in the blood. More than 90% of them have type 2 diabetes, which occurs when the body...
Continue Learning about Diabetes Complications