Cardiovascular disease is the leading cause of diabetes-related deaths. People with diabetes who have not yet had a heart attack have the same risk of future heart attack as someone with known coronary heart disease. Because their risk of heart attack is so high, the National Heart, Lung, and Blood Institute (NHLBI) recommends that people with diabetes be treated aggressively with LDL-cholesterol lowering medication and carefully manage their blood sugar to reduce their cardiovascular risk.
Having diabetes makes it much more likely that you'll have a heart attack. There's not much you can do about that, though the better you control your blood sugar, the less your risk.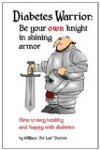 People with diabetes are at high risk for developing heart disease, so much so that diabetes is considered a heart attack equivalent. Get screened for diabetes. If you have already been diagnosed with diabetes, manage your condition with lifestyle changes (diet and exercise) as well as medications. The presence of diabetes has specific implications for how cholesterol and blood pressure should be treated with other medications.
Continue Learning about Diabetes Complications