Diabetes complications are more common in some populations than in others, says endocrinologist Athena Philis-Tsimikas, MD, of Scripps Health. One key to preventing diabetes complications, she says, is access to good healthcare.
Complications of diabetes refer to the damage of your body caused by the disease. The complications of diabetes are major so it is so important to follow you medical regime in order to keep the disease under control. The major complications of diabetes include damage to the blood vessels. This blood vessel damage leads to diseases stroke, heart attacks and inadequate circulation to the hands and feet. Diabetes also damages the blood vessels in the eyes and if not treated can lead to blindness.
The key to the control of the disease is to follow your medical regime and follow-up appointments with your healthcare provider.
Complications are what doctors call damage to your body caused by high blood sugar from diabetes.
Complications are like the worst hangover you can imagine. It's the morning after, the party's over, and you feel awful. Except, unlike a hangover, complications don't go away. Some can be treated, but for the most part, once your body is broken by diabetes, it stays broken. If you let the tiger maul you, you'll never fully recover. Bottom line: Don't let yourself get complicated in the first place.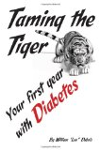 More About this Book
Taming the Tiger: Your first year with Diabetes
If you ve just been diagnosed with diabetes, this book is for you! It is a fact. Getting a diagnosis of diabetes has the same impact on your body and soul as having a heart attack. Right now you are...
Unfortunately, you can feel fine without really being fine. For example, people with diabetes often have nerve damage, so they don't feel things that indicate serious problems. Like heart problems, for example. People who have diabetes are more likely to suffer so-called silent heart attacks, serious heart damage they never even feel. Serious foot problems are also more common in people who have diabetes, in part for the same reason—nerve damage caused by the disease. Small foot injuries are often overlooked because the person doesn't feel bad. In fact, the person might not feel anything at all, even with a very serious foot ulcer.
So you can have complications and not feel bad. Just as important, you can have a very high risk of developing complications without feeling bad. Many people walk around for years with dangerously high glucose levels, and say they do not feel bad. So what you can't feel can hurt you. That is why it is so important to have regular checkups with your healthcare provider and verify that everything you can't feel is okay. That will help protect you from feeling bad for years to come.
Continue Learning about Diabetes Complications