One-third of people with diabetes also have major depression or clinically significant symptoms of the mood disorder. In fact, so many people with diabetes also suffer from depression that researchers have coined a term for the way the two diseases mingle: "diapression."

This content originally appeared online at Baptist Health South Florida.
https://baptisthealth.net/baptist-health-news/diabetes-depression-merge/?cat=life
The majority of people who have diabetes take anti-depressants. Depression is just part of the disease that needs to be treated along with blood sugar, cholesterol, blood pressure, and all the rest of it.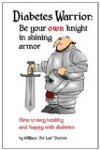 According to recent published studies, between 9 and 11% of patients of people with Type 2 diabetes are affected by depressive disorders; that number rises significantly to 26% when lesser forms of depression are included.

Worldwide estimates of the prevalence of depression among people with diabetes appear to vary by nation, with prevalence rates ranging from roughly 15 to 40 percent.

Around the globe, depression in diabetes exists, regardless of culture or country. As the number of people with diabetes is expected to rapidly escalate -- to 438 million in 2030 -- it is imperative that research is expanded to better understand to whom, how, and why depression in diabetes is happening so that better prevention and treatment programs can be developed.