Children with childhood disintegrative disorder (CDD) develop normally until they're three or four (sometimes older) but then dramatically regress, losing language, social, and self-help skills, including loss of bowel and bladder control, and may also develop seizures. Eventually, the child may display autistic characteristics, including mental retardation. CDD is very rare and the least common form of autism spectrum disorder (ASD).
From The Smart Parent's Guide: Getting Your Kids Through Checkups, Illnesses, and Accidents by Jennifer Trachtenberg.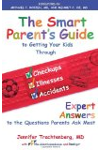 Continue Learning about Developmental Disorders

When a child is born with a developmental disability, sometimes called a birth defect, it means there is a chronic condition that will be a life-long challenge. Down syndrome; autism; and language, learning, vision or hearing prob...
lems are a few developmental disabilities. While these disabilities are typically present at birth, they can begin at any time up to age 22.
More