Getting seven to nine hours of sleep every night has been shown to protect against depression, as does maintaining your natural circadian rhythm; that is, your sleep-wake schedule. The best way to keep a balanced sleep schedule is to wake up at the same time every morning, even on weekends. It has also been shown that getting five to ten minutes of light as soon as you wake up can boost your mood. This form of light exposure doesn't require intense light (as is needed to treat seasonal affective disorder); it can be achieved by turning on a lamp next to your bed with a 100-watt lightbulb. The key to aiding the stabilization of your circadian rhythm is that the light exposure occurs at the same time each day.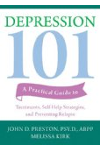 Continue Learning about Depression Prevention

There are plenty of things you can do to prevent depression or a depression relapse, such as eating a healthy Mediterranean diet, exercising regularly and staying connected to loved ones. Maintaining a consistent sleep schedule an...
d managing stress can also help with depression prevention.
More