In the research on depression relapse, some things have become apparent:
Maintaining a balanced circadian rhythm helps to keep your mood stable.
Research has shown that people who take ten thousand steps a day are less likely to relapse into depression.
Once you've recovered from a depressive episode, one good way to stay on track is to have a person, or even several people, check in with you occasionally to make sure that you continue to stay healthy.
Most people with depression wait too long to get help, thinking that it will just go away or that they can handle it on their own, but before they know it, they are spiraling into clinical depression. Sit down with someone who can help you monitor your depression and share your list of depressive behaviors.
Everyone's depression triggers are different, so you'll need to explore your particular triggers and habitual reactions and become familiar with them to make sure that if you start drifting into depression, you will be able to catch it before it becomes a full-blown episode.
If you start to feel out of balance, that is, stressed, unhappy, sad, confused or frustrated with a particular part of your life, this is a sign that your life might be slipping out of balance. If you notice uncomfortable symptoms such as these, it might be a good time to sit down and consider whether there's anything in your life that needs attention.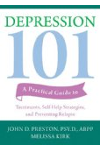 Providing a strong support system is the best way to prevent depression relapse. Loved ones can be non-judgmental and leave communciation open. With their support, you can feel comfortable talking about symptoms if they were to reappear, and be encouraged to seek help when needed.
As you move into your new life after recovering from depression, you may wonder how you will prevent yourself from falling into a depression again. The answer is to continue to listen to your pain. But from now on don't wait for your pain to get so big that it cripples you. You can prevent a depression by listening to the whispers that you hear and not waiting for the messages to become loud, booming shouts.
The best way to move through your pain, despair, sadness, loneliness, fatigue, emptiness, and other symptoms of depression is not to be afraid of them. When these feelings come up, don't push them aside. If you listen to the pain when it first comes up, you can move through it very quickly. If you are tired, listen to your body. What do you need? Do something to meet that need, even if only in some small way. If you begin to feel a twinge of worthlessness, begin to look at ways you are spending your time that may not be worthwhile.
It is a balancing act—to let yourself be happy without being afraid of the pain. It requires that you trust that the pain has a message and that you need only to listen to it and settle back into your happiness. The pain is trying to redirect you toward a course that will lead you toward your happiness. The pain is meant to heal you.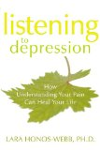 Continue Learning about Depression Prevention