Recovering and staying free from depression is like going on a diet. You can't go back to your old habits once you've lost the weight. Staying well -- like staying at a healthy weight -- often means changing your lifestyle for good. Luckily, not only are all of the skills and tips good for depression, they're also good for your body and soul. So once you've found some techniques that work for you, consider cultivating them as lifelong habits. You'll be less likely to experience depression and more likely to recover quickly should another episode occur.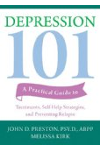 Continue Learning about Depression Prevention

There are plenty of things you can do to prevent depression or a depression relapse, such as eating a healthy Mediterranean diet, exercising regularly and staying connected to loved ones. Maintaining a consistent sleep schedule an...
d managing stress can also help with depression prevention.
More