Whether you have experienced depression before or you experience new symptoms during pregnancy, it is important to seek help. You can begin with making sure you have enough sleep, exercise, good food, and practical help with coping with any stressful situations. Seek emotional support by reaching out to friends and family, talking with your health care provider or religious counselor, or joining a specialized support group. If such support is not enough to help you through a difficult period, ask for assistance from a mental health professional - such as a counselor, social worker, or psychologist - who is knowledgeable about depression in pregnancy. A skilled therapist can provide support and guidance, assess whether medications may be helpful for you, and, if necessary, refer you to a provider who can prescribe them.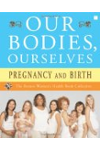 More About this Book
Our Bodies, Ourselves: Pregnancy and Birth
ALL THE INFORMATION YOU NEED TO MAKE WISE DECISIONS ABOUT YOUR PREGNANCY AND THE BIRTH OF YOUR CHILD -- FROM THE EDITORS OF THE CLASSIC "BIBLE OF WOMEN'S HEALTH" Pregnancy and birth are as ordinary...
Continue Learning about Depression Prevention

There are plenty of things you can do to prevent depression or a depression relapse, such as eating a healthy Mediterranean diet, exercising regularly and staying connected to loved ones. Maintaining a consistent sleep schedule an...
d managing stress can also help with depression prevention.
More