Depression is painful because it causes you to believe your worst fears about yourself and your world. When you're depressed, every interaction with another person can trigger intense self-doubt, and every minor drawback can seem like an insurmountable obstacle. You may find yourself thinking critical thoughts about yourself, assuming the worst about problematic situations and other peoples' intentions, and making generalizations about the way things are for you, such as "I'll always have crappy jobs" or "I'm never going to find anyone to create a meaningful relationship with." When you habitually think this way, it can feel nearly impossible to see your way out of depression; after all, if your own brain is telling you that you're unlovable, stupid or incompetent, how can you expect to be anything but depressed?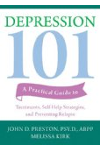 Continue Learning about Depression

Everyone feels "down" at times. Depression is more than occasional blues. When sadness and hopelessness just don't go awaywhen these feelings interfere with your daily life, when they affect your energy, your ability to sleepyou m...
ay need professional help. Depression can become a very serious illnessbut treatment like counseling and medication can help.
More