People who experience low-grade chronic levels of depression do not meet the criteria for a clinical diagnosis of major depression or dysthymia (low-grade, unremitting depression) but experience feelings such as discouragement, despair, disapproval of the self, or a chronic disappointment with life itself. Although it is important, for treatment reasons, to make a distinction between clinical depressive disorders (major depression and dysthymia) and these other depressive symptoms, even low-level symptoms of depression can be helped by understanding the meaningfulness of these individual symptoms. In addition, it can be very important to face symptoms of depression even if they are not severe enough for a diagnosis, because a major depression is often preceded by lower-grade symptoms.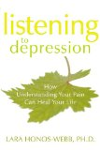 Continue Learning about Depression

Everyone feels "down" at times. Depression is more than occasional blues. When sadness and hopelessness just don't go awaywhen these feelings interfere with your daily life, when they affect your energy, your ability to sleepyou m...
ay need professional help. Depression can become a very serious illnessbut treatment like counseling and medication can help.
More