Give yourself full permission to experience your new life without depression. Change is uncomfortable, and that discomfort is part of the human condition. If you were depressed for a long time, it may feel strange to now be without your depression. Just remind yourself that change is uncomfortable—even positive change. Tell yourself you are willing to feel unsettled for a short while in exchange for a life without depression.
You may also have to give yourself permission to live a happy life when others around you are still depressed.
You may be surrounded by people who are still depressed, even though you have recovered. Misery loves company, as they say. If you are in this situation, do not let yourself be pulled down by the others around you. You may fear that the new happy you will not be accepted by others who knew you when you were depressed. One way to handle this situation is to give yourself permission to set a new standard. Let yourself be the role model of happiness in your circle of friends or family. Think of someone you know who has been an inspiration to you. If you have succeeded in healing your life, let yourself become the inspiration for others.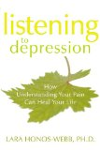 In many places around the world, mostly developed nations, there has been increasing emphasis on recovery and active illness management for people with mental disorders, including depression. Born out of substance abuse and addiction programs, the recovery model emphasizes the following:
Finding hope
Personal empowerment in your own treatment and wellness
Expanding your knowledge about your illness and its treatments
Establishing support networks and seeking inclusion
Developing and refining coping strategies;
Creating a secure home base;
Defining a sense of meaning for your life.
Some have pointed to two different models of recovery, one developed by practitioners, the other by people with depression/mental health consumers. Both, however, involve these three points:
Each person's path to recovery is unique.
Recovery is a process, not an end point
Recovery is an active process, in which the individual takes responsibility for the outcome, with success depending primarily on collaboration with helpful friends, family, the community and professional supports.
There are hundreds of recovery-based resources across the world. In the United States, one such program is the Wellness Recovery Action Plan, which recommends five actions for recovery:
Believe in yourself and your recovery.
Take personal responsibility.
Educate yourself.
Stand up for yourself.
Learn how to both receive and give support.
Continue Learning about Depression