Depression in partners of people with bipolar disorder is common, just as it's common for those who care for people with chronic, severe illnesses, such as Alzheimer's disease. The paradox is that, because of the stigma often attached to mental illnesses, you as a caretaker of a person with bipolar disorder may not receive the support and compassion that someone who takes care of a person with a more obvious illness may receive. It's natural that you might feel depressed because of your situation. Much of this results from the helplessness you feel when you must play so many roles and be so many things in a relationship.

When people have cancer, they often keep their ability to reason even when their body is going through crises. When you have to help a partner who is no longer reasonable and may even be dangerous, it's natural that this would create depressive feelings. Know yourself and what you are capable of handling and then get help with the rest.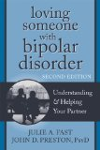 Continue Learning about Depression

Everyone feels "down" at times. Depression is more than occasional blues. When sadness and hopelessness just don't go awaywhen these feelings interfere with your daily life, when they affect your energy, your ability to sleepyou m...
ay need professional help. Depression can become a very serious illnessbut treatment like counseling and medication can help.
More