Because overactivity is so highly valued in our culture, it is often rewarded. The rewards of workaholism are obvious. The more you work, the more income you may earn or the more praise you may receive. The more rewards you accumulate from compulsive overactivity, the more difficult it becomes for you to make any contact with your underlying depression, and the farther you get from your real values and interests. People who have a masked depression often have only superficial relationships and no real intimacy in their lives.
Unfortunately, the compulsive overactivity mask covering the depression is also brittle. At the first sign of cracking, the person's whole psychological structure is at risk of collapsing. For example, a person who masks a depression by working too much may be thrown into a profound depression or have suicidal impulses when she has a professional failure. Those feelings were there all the time, lurking beneath the brittle surface. By facing those hidden feelings directly you begin to gain control of your life, rather than being driven by a desperate need to hide them.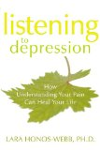 Continue Learning about Depression

Everyone feels "down" at times. Depression is more than occasional blues. When sadness and hopelessness just don't go awaywhen these feelings interfere with your daily life, when they affect your energy, your ability to sleepyou m...
ay need professional help. Depression can become a very serious illnessbut treatment like counseling and medication can help.
More