Adults aren't the only ones who can become depressed. Although it may be more common for adolescents to experience depression, this illness can occur in kids as young as 3 years old.
All kids get sad sometimes, but when that sadness begins to disrupt their lives, it's important to pay close attention to your child's behavior. According to the National Institute of Mental Health, as many as 11 percent of young children and adolescents have depression. Depression is dangerous for kids because it puts them at risk for illnesses, substance abuse, social difficulties, and suicide.
It can be difficult to identify, however, so the better you know your kids, the more likely you'll be able to notice changes that can signify a bigger problem. Here are some signs to look for:
Is your child suddenly disinterested in school and activities?
Does he or she seem withdrawn from family or social activities?
Does your child seem moody, prone to bouts of anger or crying?
Is your child having difficulty sleeping? Disinterested in eating? Or eating too much?
Has your child been experimenting with drugs or alcohol?
From Good Kids, Bad Habits: The RealAge Guide to Raising Healthy Children by Jennifer Trachtenberg.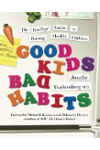 Continue Learning about Depression

Everyone feels "down" at times. Depression is more than occasional blues. When sadness and hopelessness just don't go awaywhen these feelings interfere with your daily life, when they affect your energy, your ability to sleepyou m...
ay need professional help. Depression can become a very serious illnessbut treatment like counseling and medication can help.
More