Depression changes the way you act at home. You feel negative about yourself and see the entire world through a negative lens. On top of this, work issues can lead to family problems, especially if there is job loss. Often, family members of people with depression don't understand what's going on. Statements such as, "What's wrong with you?" or "Snap out of it!" only increase feelings of worthlessness and sadness. Learning about depression can help stave off comments like these. To promote understanding and support, it may be helpful for a family member or friend to go with you to some of your doctor's appointments and therapy sessions.
You should talk to your child about depression as soon as you suspect something may be wrong. If you promptly deal with problems that can lead to depression, you may be able to prevent the depression from developing in the first place. Keep in mind, however, there are circumstances that are beyond your control.
Realize that your child's first response may be denial that any problem exists, and they may hold to that assertion. Or, they may have difficulty expressing what they are feeling. Let your kids know that you have an open-door policy. If they are overwhelmed with stress, perhaps dealing with loss and grief, or are having difficulties at school, they should be able to come talk to you about it.
If behavior that concerns you persists for more than two weeks, you should seek professional help. You might begin by speaking with a teacher or school psychologist. If the problems seem more serious or are unrelated to school, they may require attention from your pediatrician or a mental health professional.
From Good Kids, Bad Habits: The RealAge Guide to Raising Healthy Children by Jennifer Trachtenberg.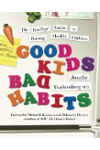 Continue Learning about Depression