A recent medical review examining 244 studies confirms that there is a moderately strong association of depression and anxiety with functional somatic syndromes, including irritable bowel syndrome, functional dyspepsia, fibromyalgia, and chronic fatigue syndrome. Another medical journal article written by Drs. A. Tylee and P. Gandhi reinforces the syndrome--depression link: "A holistic approach to recognition [of depression] is clearly necessary, and primary care physicians need to have a high index of suspicion for depression when faced with medically unexplained somatic symptoms, including general aches and pains and lack of energy."
The core symptoms of functional somatic syndromes are chronic pain and discomfort associated with loss of vitality (fatigue, low energy, and sleep disturbance). These medically unexplained symptoms are also the most common symptoms of depression. Not only do the symptoms of functional somatic syndromes overlap with one another, they overlap and are associated with depression.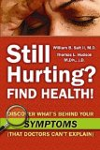 Continue Learning about Depression

Everyone feels "down" at times. Depression is more than occasional blues. When sadness and hopelessness just don't go awaywhen these feelings interfere with your daily life, when they affect your energy, your ability to sleepyou m...
ay need professional help. Depression can become a very serious illnessbut treatment like counseling and medication can help.
More