Depression can be a signal alerting you that you have veered off course and warning you to change your direction. For example, Jan found herself overwhelmed by the demands of her siblings, who expected her to take care of their parents and to be responsible for all family get-togethers. She also struggled to take care of her husband, who refused to take on any household responsibilities. Jan worked a full-time job in sales and her personal motto was "The customer always comes first."

She exhausted herself trying to control her husband and meet the expectations of her relatives. She found herself sinking into a depression. During therapy she learned that her depression was a signal that she had gotten off course by always putting others' needs ahead of her own and failing to take care of herself. In therapy, she learned to understand that depression was a signal telling her to respect herself. She learned to say no to the demands of her relatives. She learned to assert herself with her husband. In this way, she was able to transform her depression from a destructive symptom into a communication to take care of herself, to put herself first.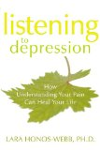 Continue Learning about Depression

Everyone feels "down" at times. Depression is more than occasional blues. When sadness and hopelessness just don't go awaywhen these feelings interfere with your daily life, when they affect your energy, your ability to sleepyou m...
ay need professional help. Depression can become a very serious illnessbut treatment like counseling and medication can help.
More