Depression is disruptive because it affects the mind and the body. A depressed person often slows down to the point that nothing can get done. Getting out of bed can feel like a monumental task to the depressed brain. Depression can also cause irritation and unreasonableness. A depressed person may be unhappy and mean, or weepy and clingy. Depression can distort your bipolar partner's thoughts to the point that they can say and do very unreasonable things. The duration of a major depressive episode can vary substantially from person to person and often persists for a number of months.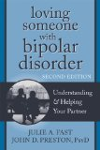 Continue Learning about Depression

Everyone feels "down" at times. Depression is more than occasional blues. When sadness and hopelessness just don't go awaywhen these feelings interfere with your daily life, when they affect your energy, your ability to sleepyou m...
ay need professional help. Depression can become a very serious illnessbut treatment like counseling and medication can help.
More