One obstacle to healing from depression is the attachment to and identification with a loved one who is depressed. When a person has grown up in a family where a parent or sibling was significantly depressed, he may identify with the loved one through the feelings of depression. If this is the case, then letting go of the depression is terribly threatening because it may feel like letting go of the parent or sibling. For example, a woman who is depressed and whose mother is or was depressed may use the depression as a means of maintaining her connection to her mother, and she may feel that she would be abandoning her mother by letting go of the depression. The best way to confront this obstacle is to consider whether it applies to you, and stay aware of it. If you have a depressed relative you are deeply attached to, you may want to confront this obstacle by telling yourself that the best thing you can give to that person is to make your own life work. Your happiness is always a gift to those who care deeply for you.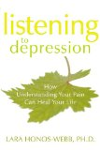 Continue Learning about Depression

Everyone feels "down" at times. Depression is more than occasional blues. When sadness and hopelessness just don't go awaywhen these feelings interfere with your daily life, when they affect your energy, your ability to sleepyou m...
ay need professional help. Depression can become a very serious illnessbut treatment like counseling and medication can help.
More