The following are examples of depression symptoms in your bipolar partner's diet:
Stops eating, noticeable weight loss.
Eats all day, noticeable weight gain.
Says food has no taste.
Drinks to feel better; alcohol problems get worse.
Uses drugs or caffeine to get some energy or escape the depression.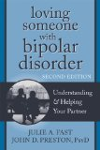 Continue Learning about Depression

Everyone feels "down" at times. Depression is more than occasional blues. When sadness and hopelessness just don't go awaywhen these feelings interfere with your daily life, when they affect your energy, your ability to sleepyou m...
ay need professional help. Depression can become a very serious illnessbut treatment like counseling and medication can help.
More