If you have depression, self-stigma can be harmful because it may cause you to stop treatment, avoid loved ones and other supportive people, or refuse to do things that you normally like. Self-stigma is a negative attitude of believing you are weak or damaged because of an illness. To avoid self-stigma, try the following:
Recognize and celebrate your strengths.
Educate yourself about your illness, and keep in mind that depression isn't a weakness, but a biological problem in your brain.
Learn what makes you happy and do it.
Stick to your treatment plan.
There's still a stigma surrounding depression, says neuropsychologist Marsha Lucas, PhD. In this WisePatient video, she explains how social taboos prevent many people from seeking treatment for depression.
Despite the known effectiveness of treatment for depression, the majority of people in need do not receive it. Where data is available, this is globally fewer than 50%, but fewer than 30% for most regions and even less than 10% in some countries. Barriers to effective care include the lack of resources, lack of trained providers and the social stigma associated with mental disorders.
A common symptom of depression is constant self-recrimination. You may criticize yourself frequently. You may feel ashamed of yourself, like you can never do anything right. Sometimes you may feel like you want to sink into the earth and hide your face. Shame can be an indicator of your deepest yearnings. Because so many people have had their dreams and hidden aspirations be ridiculed by others, they may internalize a sense of shame about what they really want to do.
You can learn to transform your shame into a meaningful message to you. Shame shows you where you are called to challenge your current definitions of normality. You can learn to translate shame into an indicator telling you to push past your current limitations imposed by your need for conformity.
In creating your own original personal atmosphere, it is predictable that at times you will dare to challenge your expectations rather than conform to them. Shame means you have arrived at the boundary separating where you feel comfortable and where you are meant to go. Shame calls you to expand your sense of the allowable—and maybe even to take others with you.
However, there is one important exception to this advice: if you have been a victim of sexual, emotional, or physical abuse, then you may need treatment for trauma. In that case, your symptoms of depression may actually be related to post-traumatic stress disorder (PTSD). If you have suffered a traumatic event and may have PTSD, it is important not to confuse this disorder with a major depression. The more severe the trauma, the more urgent is your need for professional support to help you work through your major symptoms.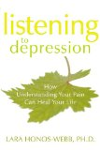 Many people with depression refuse to seek treatment due to stigmas associated with mental health. As more people understand that depression is biological, it is being seen as a legitimate condition, says psychiatrist Tarique Perera, MD.
Continue Learning about Depression