Like the red light on the dashboard of your car alerting you to a problem in your engine so that you will address the problem immediately, depression can also be helpful if it is used as an alert for the patient to seek professional assistance for a permanent change for the better.
In addition to higher levels of empathy and realism, some professionals believe that the effects of treating depression with psychotherapy may also bestow benefits that nondepressed people often don't access: self-knowledge.
Dr. Gina Newsome Duncan, associate professor of psychiatry at Georgia Health Sciences University, believes one crucial characteristic of mental health involves knowing oneself and being self-aware. She often tells her depressed or anxious patients that "they are in a position to be some of the most mentally healthy people around because their illness has forced them to grapple with unhealthy patterns and learn new skills to cope with the stresses of everyday life." This shows the importance of seeking professional help when one is suffering psychologically. It can save a life.
Though these qualities may give depression an upside, I don't want to misrepresent the suffering and pain that those with depression experience. If left untreated, depression can put a person on a slippery slope. "Suicidal thoughts occur in about half of clinical depressive episodes," writes Ghaemi. Ten percent of people with depression take their own lives. "The benefits of depression come at a painful, if not deadly price."
This content originally appeared on doctoroz.com.
Depression is meant to stop you in your tracks. It is your signal that something is wrong and needs to be healed. The main symptoms of depression—insomnia or hypersomnia, fatigue and loss of energy, and feelings of worthlessness—are in the service of transforming your life. To some, the idea that depression can be viewed as a gift may be offensive. They may think such a view does not take into account the real suffering and pain of depression. It's true that there are times when depression is not a gift, but in many cases it can be seen as a meaningful experience to be honored. If you are going through a depression you will experience pain and suffering, but your experience can be both painful and essentially meaningful at the same time. If depression is an attempt at self-healing, as I will propose, then cutting off depression can be harmful. Depression can be a gift and it is important to recognize the complications that can result from trying to cut off depression.
One way of reconciling the pain of the depression with its potential for healing is to understand that pain is meant to get your attention. There is a Sufi story about a man who falls asleep under a tree. Another person sees a poisonous snake crawl into the sleeping man's mouth and runs over to the person and starts beating him up to get him to wake up and get the snake out. The pain of being beaten wakes up the sleeping man, who does not realize that the person beating him up is actually trying to save his life. Depression can be similar, in that it is trying to tell you to see that something is not working in your life.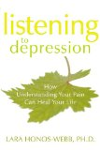 Continue Learning about Depression