Depression often maintains itself through a rigid form of self-denial. The simple act of seeking pleasure can turn things around for you. Spend some time living based on the pleasure principle, doing what feels good. It is your natural birthright to experience pleasure and to learn your life lessons through pleasure. It really is possible and reasonable to learn important life lessons, pay your dues, build character, and give yourself a badge of honor through pleasure. The oppressive regime that your depression is trying to overthrow may be the belief that you must suffer in order to learn and grow.

Connect to your bodily sense of pleasure. Have you ever been in an interview or other formal situation in which you remained in an uncomfortable physical position so as not to appear too fidgety or to avoid calling attention to yourself? This can be a metaphor for how some people live their whole lives: restraining their natural impulses toward pleasure so as not to disturb others. This is the opposite of the pleasure principle. Your physical body has a sense of what is comfortable and pleasurable. The pleasure principle generally drives your body to move, to be active, to rest, and to be still at times. Get in sync with your body's need for pleasure.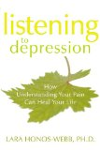 Continue Learning about Depression Treatment

Because it is a multi-faceted condition, treatment for depression is multi-faceted as well. Minor depression can often be treated with therapy and a few simple lifestyle changes, while chronic or major depression treatment can req...
uire medication in addition to therapy. In some severe cases, electroconvulsive therapy (ECT) may be used. It's important to work with your mental health professional to determine which course of treatment for your type of depression is most appropriate.
More