Some of the problems with using medications to treat depression include the following:
Improvements from medications are not maintained after the medication is stopped.
Some medications have more undesirable side effects, such as loss of sexual desire.
Clients are more likely to stop taking medication because of side effects.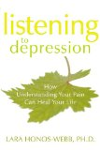 Continue Learning about Depression Treatment

Because it is a multi-faceted condition, treatment for depression is multi-faceted as well. Minor depression can often be treated with therapy and a few simple lifestyle changes, while chronic or major depression treatment can req...
uire medication in addition to therapy. In some severe cases, electroconvulsive therapy (ECT) may be used. It's important to work with your mental health professional to determine which course of treatment for your type of depression is most appropriate.
More