Researchers have found psychotherapy to be extremely effective in treating depression. They concluded that long-term "talk therapy" is more effective than short-term therapy that lasts only 10 to 20 weeks. Treatment for depression often involves psychotherapy and antidepressant drugs.
Sometimes all people need is to be heard, and a counselor is often the best option for expressing yourself. In this video, Dr. Judi Hollis talks about the benefits of counseling for anger and depression.
Therapy with a mental health provider (sometimes called psychotherapy, counseling or talk therapy) is one available avenue for learning effective ways to gain relief during a depressive episode. Therapists come from a variety of educational backgrounds such as psychology, psychiatry, social work, counseling, or marriage and family therapy; will have a master or doctoral degree and are licensed by their state of practice.
Therapy can be done in individual, family and group formats. Although many people initially prefer individual therapy, group therapy can be essential for relieving isolation experienced during depression, receiving support from others experiencing similar circumstances and learning additional depression management strategies that others are utilizing successfully.
Research shows that medication and talk therapy had similar success rates for treating depression after a few months treatment. Outcomes reached success rates of about 60% when medication or talk therapy only was used. Research found that concurrent treatment with both medication and psychotherapy had success rates of 80%. Consumer Reports published an article a few years ago that found that longer term psychotherapy was significantly more effective than short term treatment.
Psychotherapy helps treat depression by addressing the whole person, says neuropsychologist Marsha Lucas, PhD. In this video, she explains how psychotherapy helps patients understand experiences and emotions that may contribute to depression.
Psychotherapy is an important part of the treatment of depression, and can even be effective on it's own for mild cases. Watch psychiatrist Sudeepta Varma, MD, discuss various types of psychotherapy and how it's used in conjunction with medications.
Psychotherapy or talk therapy is most effective in the hands of a skilled professional who is also a good fit with the patient. Therapy can provide insight into the specific factors that precipitated the depression; guidance in changing thoughts, feelings, and behaviors that may fuel the disorder; and aid in dealing with the condition's effects on one's work and relationships. Moreover, it helps to have the support of a therapist when living with the side effects of antidepressants and the potential frustration of trying several medications unsuccessfully.
However, even the most gifted therapist is not a magician who can dispel the gloom immediately. Several weeks may elapse before the sessions produce a noticeable change in mood. It's important to give the process a chance, even though you may feel that you are accomplishing little at first.
Talk therapy, or psychotherapy, helps veterans treat their depression by talking to a trained mental health provider about their condition and how to solve their problems. Veterans in therapy learn how to recognize unhealthy thought and behavior patterns, understand their relationships and experiences, and gain more of a sense of control in their lives. Therapists can help depressed patients set positive and realistic goals, and deal with new crises and obstacles in the return to civilian life. Talk therapy has been shown to promote positive changes in the chemical balance of the brain. Even if certain distressing situations cannot be changed, talk therapy can help the veteran adjust his/her response to the situation to diminish distress associated with depression.
Research has shown that combining psychotherapy ("talk therapy") with antidepressant drugs may be the most effective way to treat major depression in teens.
A psychologist or other mental health practitioner (for example, social worker, psychiatrist, marriage and family counselor) can help in the diagnosis and treatment of anger and depression. The first step here is to evaluate your symptoms. Is the anger part of the depression? Is it a separate issue aside from the depressive mood disorder? Once identified, psychotherapy, sometimes called talk therapy, will help you learn new ways of thinking and behaving, which will help alleviate your symptoms. One of the most important things to do when seeking a mental health therapist is to find a practitioner who specializes in what you're experiencing. So make sure you find a clinician who specializes in depression or anger management.
Data indicate that while individuals diagnosed with depression are most likely to receive medication, psychotherapy has proven to be equally effective and to have many benefits over antidepressant medication. Recent advances have shown that psychotherapy over the phone is an effective treatment for depression. Antidepressants only help about 70% of those who do adhere to treatment. But some studies have shown that as many as 33% of individuals who are given the medications just stop taking them because of side effects.
Some of the benefits of psychotherapy over medications to treat depression include the following:
Psychotherapy is better tolerated, so clients are less likely to drop out.
Clients are less likely to refuse psychotherapy as a treatment option.
Psychotherapy can prevent relapse of depression more effectively than medications can.
Psychotherapy can be more cost effective, since medications need to be maintained long term, and psychotherapy may be helpful long after it is concluded.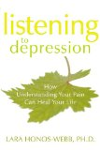 Continue Learning about Depression Treatment