Perform the following steps to provide the energetic remedy for mild depression:
1. Cord-cutting: Visualize out in front of you the incident or cause of the negative thoughts or emotions, then sever the cord from it at the solar plexus area. Then visualize throwing it into a violet fire.
2. General sweeping seven times with light whitish-green, then seven times with electric violet.
3. Front solar plexus chakra: Form a clear intent that you are sweeping away any negative thoughts and emotions lodged in that chakra. Then sweep with electric violet for up to 5 minutes. Energize with electric violet for up to 5 minutes. Stabilize.
4. Repeat step 3 on the back solar plexus, throat, ajna, and crown chakras.
5. Navel chakra: Sweep with light whitish-green, then energize with light whitish-red. Stabilize.
6. Repeat step 5 on the basic chakra.
7. Hand (palm) and sole minor chakras: (Hand chakras are the same ones used in hand sensitivity and scanning. Sole minor chakras are located between the ball of the foot and the arch.) Sweep with light whitish-green. Energize each area with light whitish-red. Do not stabilize the palms or the soles of the feet.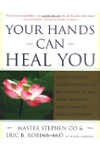 Continue Learning about Depression Treatment

Because it is a multi-faceted condition, treatment for depression is multi-faceted as well. Minor depression can often be treated with therapy and a few simple lifestyle changes, while chronic or major depression treatment can req...
uire medication in addition to therapy. In some severe cases, electroconvulsive therapy (ECT) may be used. It's important to work with your mental health professional to determine which course of treatment for your type of depression is most appropriate.
More