Mindfulness-based cognitive therapy (MBCT), which combines mindfulness practice with cognitive behavioral techniques, has been successfully used to treat depression and anxiety. The best documented use is to prevent relapses of depression. Mindfulness meditation helps people recognize when their mood is beginning to plummet, and to focus on their present experience rather than on fears of the future or reliving past negative episodes. In one randomized clinical trial, MBCT cut the relapse rate in half for people with recurrent episodes of depression. In another randomized clinical trial published in The Journal of Consulting and Clinical Psychology, people with recurrent depression who participated in an eight-week group course of MBCT were significantly less likely to become depressed again than people who continued on antidepressants without therapy. During the study, people in the mindfulness group reported greater physical well-being and enjoyment in daily life, and 75 percent were able to discontinue their antidepressant medication.
Mindfulness is a cognitive method that has shown promise in improving depression. The technique, originally developed by Buddhist monks, has recently been found effective for many modern problems such as anxiety, chronic pain and stress. Simply put, mindfulness is the act of staying aware of the present moment and of your brain's tendency to spin your experiences into assumptions, stories and explanations.
People with depression often have unhealthy thinking patterns that undermine their sense of self-worth, so mindfulness techniques can help to make you aware of such thoughts. Mindfulness can also help you stay in the moment without getting caught up in judgments, assumptions and stories about what's happening.
There are many ways to practice mindfulness. The important things to remember about mindfulness are that there is no "right" way to be mindful, and you don't have to be mindful all the time to benefit from the meditation practice. Even if you manage only a few mindful minutes a day when you first attempt this, you're doing it successfully. As you continue to practice bringing your mind back to the present moment, you'll find that it becomes easier and easier to do, and you'll notice that being mindful will become almost like second nature.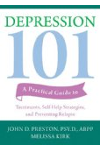 Continue Learning about Depression Treatment