Positive beliefs, even if they are inconsistent with objective facts, have been shown to improve mental health and produce measurable health benefits. Scientists found, in looking at acquired immune deficiency syndrome (AIDS) and breast cancer, that "even unrealistic optimistic beliefs about the future may be health protective. The ability to find meaning in the experience is also associated with a less rapid course of illness. Taken together, the research suggests that psychological beliefs such as meaning, control, and optimism act as resources, which may not only preserve mental health in the context of traumatic or life-threatening events but be protective of physical health as well."

Additionally, research has found that looking for and finding benefits in a difficult situation has positive outcomes in the form of improved mental health, and even extended survival following a heart attack or AIDS diagnosis. The positive effects of finding benefits even extend to victims of fire, disaster victims, mothers of acutely ill newborns, and those suffering from chronic pain. Real-world outcomes such as increased number of active days for arthritis sufferers result when individuals can find and remind themselves of the benefits of otherwise intensely negative experiences.

Emerging research shows that hope is a robust and consistent predictor of life satisfaction. A large body of accumulating research consistently indicates that being able to make meaning of difficult life events is psychologically adaptive. Therefore, the ability to make meaning out of stressful events could serve to protect you from increasing the severity of your depression. Making meaning of your depression itself might help you recover from the depression more quickly.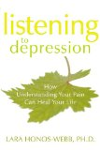 Continue Learning about Living With Depression

Living with depression can feel like a challenge, but with the right tools, you can learn to successfully manage your condition. It's important to follow the recommendations of your primary healthcare provider, take any depression ...
medication as prescribed and utilize the social supports around you. It's also important to eat well, get enough sleep, exercise and keep track of your depression symptoms.
More