Beyond the tremendous suffering that depression can cause, 9 percent of people plagued by depression take their own lives. It's likely that the majority of people experiencing depression may have some thoughts about suicide or other forms of self-harm. Most never actually plan a suicide attempt. Thoughts of suicide stem from significant feelings of pessimism and hopelessness or from anger and frustration at oneself or others. Also, it is worth noting that suicide is more likely in those who are depressed and also using alcohol or illicit drugs. Any time a person has thoughts of suicide, this should be taken very seriously.
If you are having thoughts about suicide or self-harm, it is very important for you to speak to someone about this. Certainly it is important and appropriate to share your feelings with a close friend, clergy or a loved one. And it is essential that you contact your physician or seek treatment from a qualified psychotherapist. Please do not feel afraid to talk to a professional about these concerns. Most depressed people who have thoughts of suicide do not actually attempt suicide, but it is a warning signal that you are feeling desperate or hopeless. This is the time to reach out.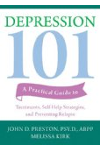 Suicidal thoughts are the most dangerous depression symptoms. More than 90% of those who attempt or commit suicide are depressed or suffering from a serious mental health disorder. Those in the 65 and older age group have the highest suicide rate, with men being more vulnerable than women. Suicidal thoughts are not the same as daydreaming about harming oneself -- they become obsessive and inescapable mental images, often against the will of the afflicted.
If you find yourself or a loved one discussing or contemplating suicide, seek immediate help from a mental health specialist, or call the National Suicide Prevention Lifeline at 1-800-273-TALK (8255).
Veterans with depression are at risk for suicide at a slightly higher rate than the general population, and younger white male veterans have the highest risk of all. Substance abuse and post-traumatic stress disorder (PTSD) increase the risk of suicide among younger depressed veterans. However, older veterans with both depression and post-traumatic stress disorder (PTSD) have a lower suicide rate, possibly because they are more likely to be receiving treatment for their PTSD through Veterans Affairs programs. If your loved one is a veteran suffering from depression, watch for these warning signs of suicide:
Talking about killing themselves, or someone else
Talking or writing about death, guns, knives, or pillsAbuse of alcohol or illegal drugs
Access to firearms
Severe anxiety
Hearing voices
Spending too much time alone; avoidance of others
Giving away their belongings
Sudden outbursts of anger or aggression
Depression can make you think about hurting yourself or suicide. You may hurt yourself to:
Take away emotional pain and distress
Avoid, distract from, or hold back strong feelings
Try to feel better
Stop a painful memory or thought
Punish yourself
Release or express anger that you're afraid to express to others
Yet, hurting yourself does just that—it hurts you. At first, it may make you feel better; but it ends up making things worse. Check in your phone book for the number of a suicide crisis center. The centers offer experts who can help callers talk through their problems and develop a plan of action. These hotlines can also tell you where to go for more help in person. You also can talk with a family member you trust, a clergy person or a doctor. There is nothing wrong with asking for help—everyone needs help sometimes.
You might feel like your pain is too overwhelming to cope with, but those times don't last forever. People do make it through suicidal thoughts. If you can't find someone to talk with, write down your thoughts. Try to remember and write down the things you are grateful for. List the people who are your friends and family, and care for you. Write about your hopes for the future. Read what you have written when you need to remind yourself that your life is IMPORTANT!
This answer is based on source information from the National Women's Health Information Center.
A person with depression may feel like there's a dark cloud hanging over his or her head. "It can become quite painful," Rob Doyle, MD, clinical instructor in psychiatry at Harvard Medical School, says. Friends and family may become impatient, especially if it's the kind of depression with a genetic component that gets triggered even when life is good and things are going your way. You may start to think life is too difficult or have thoughts of harming yourself. Discuss with your doctor a plan for what you will do if these thoughts occur. If you think you might hurt yourself, call the 24-hour National Suicide Prevention Lifeline at 800-273-8255, go to the emergency room, call your healthcare provider, or call a designated family member.
In some people, particularly teenagers and young adults, taking antidepressants may increase the chance of suicidal thoughts or self-harm. The Food and Drug Administration (FDA) warns that once a person begins antidepressant treatment, he or she should be monitored and watched closely for unusual symptoms such as withdrawal from social situations, difficulty sleeping, unusual changes in behavior, and anxiety or agitation.
Although most people who are depressed do not kill themselves, untreated depression can increase the risk of possible suicide. It is not uncommon for depressed individuals to have thoughts about suicide whether or not they intend to act on these thoughts. Severely depressed people often do not have the energy to harm themselves, but it is when their depression lifts and they gain increased energy that they may be more likely to attempt suicide. Statistics are that up to 15% of those who are clinically depressed die by suicide.
Suicide is considered a possible complication of depressive illness in combination with other risk factors because suicidal thoughts and behavior can be symptoms of moderate to severe depression. These symptoms typically respond to proper treatment, and usually can be avoided with early intervention for depressive illness. Any concerns about suicidal risk should always be taken seriously and evaluated by a qualified professional immediately.
Depression, one of the conditions most commonly associated with suicide in older adults, is a widely under-recognized and undertreated medical illness. Studies show that many older adults who die by suicide—up to 75 percent—visited a physician within a month before death. And some research has suggested that suicide attempts are more common among people who have atypical depression compared to other forms of depression. Knowing what signs to watch for, such as talking about death or saying good-bye to people, can help because you can reach for help in time. Other signs may include preparing the method, such as hiding a weapon or saving up pills, withdrawing from others, exhibiting extreme mood swings, and giving away personal belongings.
This answer is based on source information from the National Institute of Mental Health.
Continue Learning about Living With Depression

Living with depression can feel like a challenge, but with the right tools, you can learn to successfully manage your condition. It's important to follow the recommendations of your primary healthcare provider, take any depression ...
medication as prescribed and utilize the social supports around you. It's also important to eat well, get enough sleep, exercise and keep track of your depression symptoms.
More